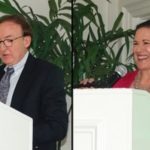 On Friday, May 6, 2016 Peapack-Gladstone Financial Corporation hosted its 2nd Annual Wealth Management Women's Luncheon, "Preserving Your Legacy." Held at the Basking Ridge County Club, over 150 women attended as bank guests to hear special presentations from two renowned guest speakers.
MJ Sully, Esq., Managing Director, Trust Officer at Peapack-Gladstone Bank began with an insightful discussion on the challenges of preserving generational wealth in today's world. The program continued with an engaging presentation by Arthur T. Vanderbilt, II, author and Former Deputy Attorney General of New Jersey, "A True Story of Transitioning Generational Wealth" with an accompanying slide show presentation depicting the history of the Vanderbilt family and fortune.
Marcy Syms, former CEO of Syms Corp and current President of Sy Syms Foundation and TPD Group, a multi-generational succession planning and consulting firm, presented "Planning a Successful Family Business Succession," where she emphasized the importance of strong family connections and the challenges in running and transitioning a business.