A founding trustee, Marcy Syms, serves as President of the Sy Syms Foundation which was established in 1985 by her late father, entrepreneur and humanitarian, Sy Syms.
President of the Foundation since 1995, Marcy has been instrumental in developing many of the grant relationships made possible by her late father's generosity.
Marcy has made fulfilling the Foundation's mission to support education, science and the arts a focus of her philanthropic career as a social entrepreneur and has awarded more than $30,000,000 to worthy organizations that work towards making a better life for all of us.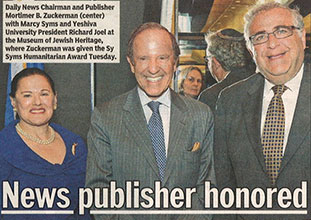 Proud benefactors include Lincoln Center Corporate Fund, the Museum of Jewish Heritage, Amnesty International, The Lower East Side Tenement Museum, National Council of Jewish Women, New York City Rescue Mission, Mt Sinai Heart, American Heart Association, Weizmann Institute of Science, Bottomless Closet, Manhattan Theatre Club and many more broadcasting companies.
With Marcy Syms at the helm, the Foundation has effected the continued growth of many institutions of higher learning including the Sy Syms School of Business at Yeshiva University.
Over 3 decades, the Foundation has been hugely supportive of Public Television and Radio, PBS and NPR. The Foundation has been part of origination of programs like Frontline, Washington Week and Reel 13.
With Marcy Syms guidance, the Foundation has also been highly supportive of medical research including entities in medicine and science which bring about improvement in health and living with and managing diseases.
In 2013, the Foundation gave it's first ever Humanitarian Award to Mortimer Zuckerman, co founder and Executive Chairman of Boston Properties and Publisher of the New York Daily News and U.S. News and World Report in recognition of his humanitarian efforts and ethical business practices throughout many years in philanthropy and business. Marcy Syms presented the award to Mr. Zuckerman who in turn gave the grant money to the Sy Syms School of Business at Yeshiva University.