Citimeals-on-Wheels, Power Lunch for Women 2014
November 21, 2014 - 12:00 PM

-

3:00 PM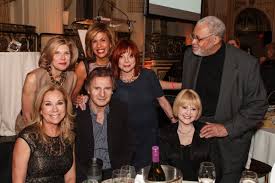 More than 400 women — leaders of industry, media, government and the arts — attended the Citymeals-on-Wheels 28th Annual "Power Lunch for Women" at The Plaza Hotel on November 21, 2014. This by-invitation-only benefit, emceed by Emmy-winning co-hosts of the 4th Hour of The Today Show Kathie Lee Gifford and Hoda Kotb, raised $1.26 million — enough to provide 196,000 meals for New York's homebound elderly.
Honored for their compassion and commitment to our city's frail aged were Lilliam Barrios-Paoli, Deputy Mayor for Health and Human Services, and Patricia Wexler, M.D., acclaimed dermatologist and Citymeals-on-Wheels Board Member. Throughout her decades-long career in city government and the nonprofit sector, Deputy Mayor Barrios-Paoli has been a friend, mentor, advocate and fierce defender of the most vulnerable in the city. Over that time she has made a significant commitment to Citymeals-on-Wheels, helping the organization in its mission to serve isolated older New Yorkers. Dr. Patricia Wexler has been a generous supporter of Citymeals-on-Wheels for more than twenty years and a board member since 2005. She is steadfast in her efforts to raise awareness about Citymeals and to ensure that the organization remains a lifeline for thousands of homebound elderly New Yorkers.
In a moving tribute, actress Blythe Danner, who is currently performing in Broadway's The Country House, read a poignant story about a Citymeals recipient. She read, "My nerves are fraught today. My temples throb and my trembling hands nearly drop my teacup. Fifty-seven years ago today I married John…Why did he leave me so soon? I always thought I would be first. I am so lonely, John…The clock chimes one o'clock. It is lunch time…The only people I see are Larry, the deliverer, and the building super. Larry always smiles when he hands me my meal…Larry brought me roast chicken today along with his kind smile. His visits make me feel less lonely, a bright spot in gray days."
Also on hand were actor James Earl Jones, who is currently performing in You Can't Take It With You on Broadway, and actor Liam Neeson.
This year's lunching women were Citymeals-on-Wheels Co-Founder and Board Chair Gael Greene, Co-President of the Citymeals-on-Wheels Board of Directors Anne E. Cohen, Donatella Arpaia, Debbie Bancroft, Christine Baranski, Ariane Batterberry, Jennifer Baum, Aliyyah Baylor, Carol Becker, Betsy Bernardaud, Alison Lohrfink Blood, Samantha Boardman, Paola Bottero, Alix Boulud, Barbara Taylor Bradford, Gale Brewer, Sharon Bush, Patti Cohen, Misty Copeland, Donna Corrado, Cristina Cuomo, Ariane Daguin, Laura Day, Elisabeth de Kergorlay, Patricia Duff, Florence Fabricant, Linda Fairstein, Georgette Farkas, Ruth Finley, Randy Fishman, Lynne Florio, Colleen Goggins, Yusi Gonzalez-Gurrera, Donna Hanover, Cecilia Hart, Caroline Hirsch, Dana Ivey, Letitia James, Rita Jammet, Suri Kasirer, Harriette Rose Katz, Rikki Klieman, Katie Lee, Jennifer Oz LeRoy, Amanda Lipitz, Phyllis Mailman, Zarela Martínez, Ruth Messinger, Margo MacNabb Nederlander, Liz Neumark, Fernanda Niven, Kristina O'Neill, Jennifer Raab, Ruth Reichl, Deborah Roberts, Betty Rollin, Daryl Roth, Gretchen Rubin, Paulette Satur, Peggy Siegal, Dee Soder, Katy Sparks, Silda Wall Spitzer, Christina Steinbrenner, Marcy Syms, Diana L. Taylor, Vicky Tiel, Laurie Tisch, Lizzie Tisch, Barbara Tober, Sophie Tweed-Simmons, Nydia Velázquez, Lillian Vernon, Dr. Ruth Westheimer, Tren'ness Woods-Black, Judith Zabar, Paula Zahn, Carly Zakin, and Leslie Ziff among others.
One hundred percent of the money raised from ticket sales at Power Lunch, and all Citymeals events, goes toward the preparation and delivery of nutritious meals to homebound elderly in the five boroughs of New York City.